Choosing the right winch for your hunting, forestry, off-roading, or boating application can be a difficult decision due to the wide range of available products and prices. This article describes the two primary types of winches available and why Northern Woodsmen recommends one type over the other based on the application. This is a first in a series of articles focused on our line of Portable Winch capstan rope winches.
Two Basic Designs
Winch design can be broadly categorized into types: Spool Winches and Capstan Winches.
Spool Design
When most people think of a winch, they picture a cable or wire rope winch that accumulates the pulling line on a spool as the winch retracts the load. This type of winch is used for a wide array of applications from light-duty hand-operated ratchet type come-a-longs to industrial duty overhead lifting applications. They are available primarily in hand operated, electric, and hydraulic versions depending on their size and use and are also offered with high-tensile Dynema synthetic rope instead of cable . Hydraulic versions are very common in the forestry and arborist sectors where they are mounted on cable skidders and large chippers. Smaller versions are available for mounting on vehicles such as trucks and ATVs. Some limiting factors to consider are noted below.
Limited pull length - The primary limitation of this type of winch is the pull distance being limited by the amount of rope or cable capacity of the accumulating spool.
Misleading capacity rating - Rated capacity is typically based on the first wrap on the spool. As more line accumulates, the diameter increases, increasing the pulling speed while pulling capacity falls. The full rating of the winch is therefore, only available when pull line is fully extended with only the first layer wrapped on the spool.
Duty cycle - When powered by a vehicle, duty cycles as low as 10% require long rest periods to cool down between pulls, limiting productivity.
Power source - Use is limited by location of the power source; a problem for many forestry, hunting, and applications.
Mounting / anchor attachment - Fixed mounting is not adaptable to different situations. If you are stuck in the mud or snow, having a winch mounted to the front of the same ATV or truck is often of little use. Being able to mount your winch using a ball mount plate or receiver mount allows for retrieval without a winch mounted on the tow vehicle.
Many models / specific applications - Spool type winches work well when specific conditions are known in advance, such as in performing very repetitive tasks, but options become limited when a variable conditions typical in an outdoor environment exist. This is where Portable Winch capstan rope winched excel.
Capstan Design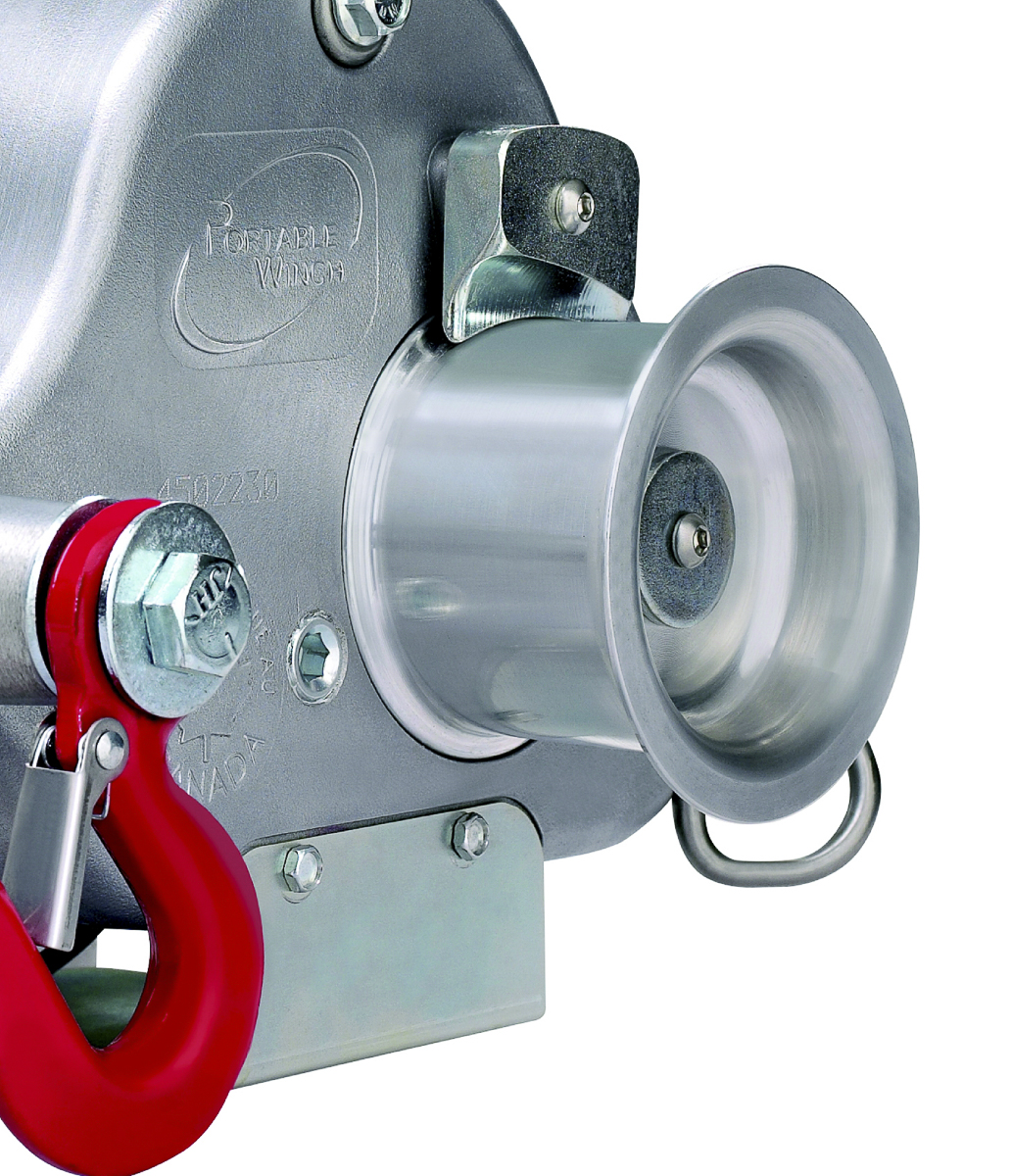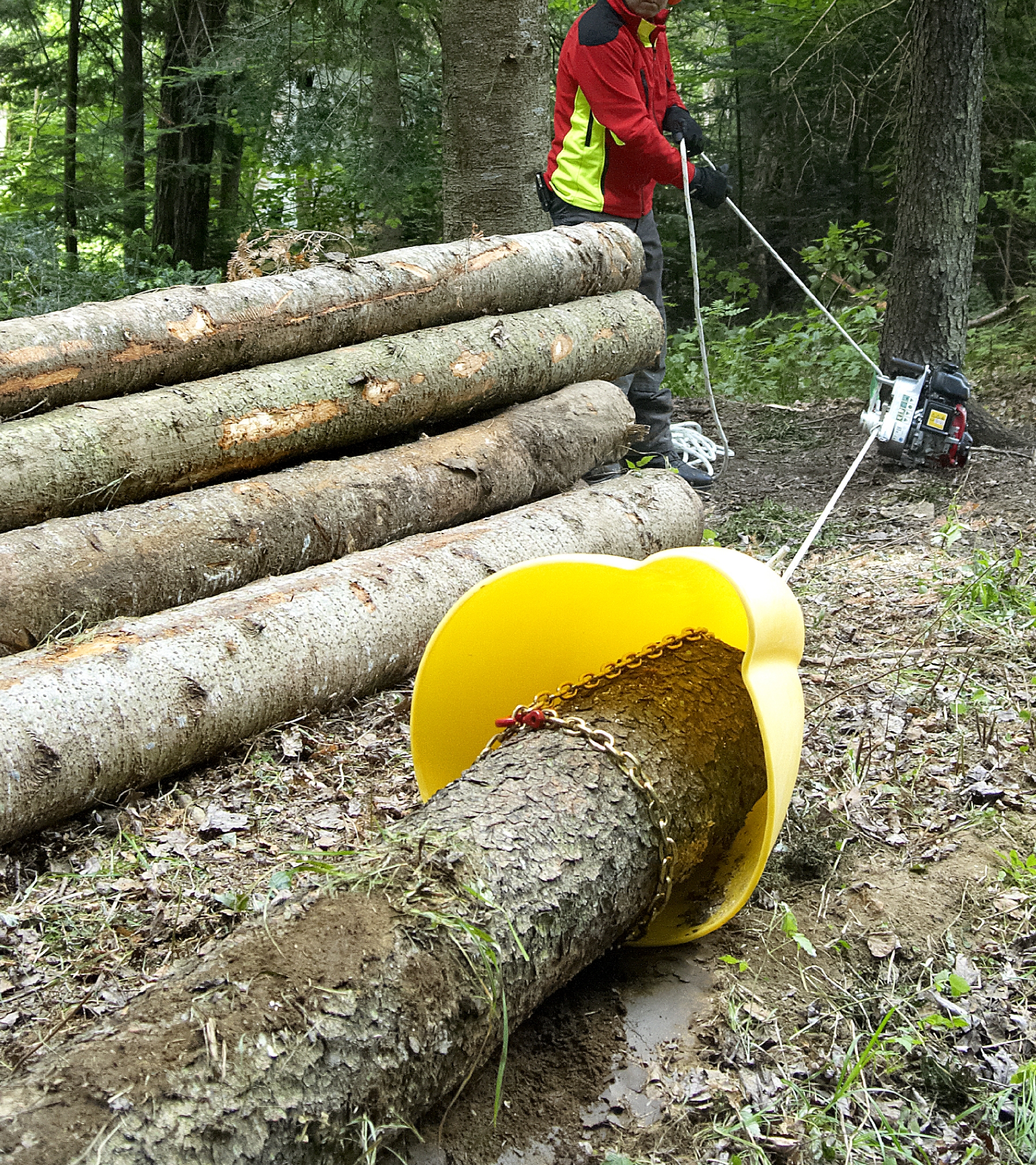 Capstan winches are less familiar to most consumers but are used commercially for a variety of specialty applications. The primary feature of a capstan winch is, instead of accumulating line on a spool, they use make use of frictional forces generated by wrapping a rope around a rotating cylinder (the capstan). Because no rope is accumulated, pull length is not limited by the winch; it is only limited by the length of rope available. This feature makes them the design of choice for electrical and utility contractors (pulling electrical cables) and commercial maritime industries (sail rigging, commercial fishing nets, ship anchors, and oil spill booms).
Portable Winch applied this design to create a line of gas and battery powered capstan rope winches ideal for large game hunting, forestry, and off-road motorsports applications. These winches combine several key attributes including a high capacity to weight ratio, self-contained power source, unlimited pull length, 100% duty cycle, and simple attachment to a wide variety of anchor points.
Unlimited pull length - A capstan winch does not place any limitation on your pull length. Since no rope accumulates on the winch, pull length is determined by your length of rope. Multiple lengths can be tied end for end as long as enough lead is left to untie the knot and continue pulling.
100% duty cycle - Portable Winch capstan winches all feature oil-bath lubricated gear boxes and either Honda GX/ GXH commercial gas engines or a Greenworks battery powered motor with overload protection.
100% capacity rating - Because no line accumulates on the capstan, 100% pulling power is always available.
Portable power source - Having the power source integral to the winch is what truly makes this a Portable Winch. Portable Winches can be easily moved to different anchor points and are not tethered to a vehicle since the power source is self-contained.
Mounting / anchor attachment - Every Portable Winch includes a strap for anchoring to an object such as a tree and many other accessory mounts are also available. Since the Portable Winch mounting system is so simple, it is also easy to fabricate a custom mount for specific applications.
Fewer models applicable to many applications - A versatile system of anchor mounts meant to be temporarily installed allows for maximum flexibility or use. A Portable Winch can easily move from the front to rear of an ATV/ UTV/ SUV or pickup (receiver mount or ball mount), out to the woods for winching large game or logs (strap or tree mount), down to the lake to pull a pier, as well as keep it in the pickup in case your wind up stuck in the snow or mud.
Wide range of accessories - In addition to multiple mounting methods, a broad array of rigging components and transport/ storage accessories are available, allowing for extremely diverse applications. Aside from the most common forestry, hunting, and off-road applications, Northern Woodsmen has commercial customers using Portable Winches for sea and land based oil spill response teams, large-scale tent setup, commercial fishing, extreme wilderness outfitting, feedlot and livestock rendering, barge maintenance, scaffold assembly, cell tower maintenance, and millwright/ machine moving applications.
We hope this helps detail some of the key features when it comes to selecting a winch for your large game hunting, forestry, or off-road use. If you have any questions regarding selecting the right rope winch for your application, please Contact Us by email or give us a call at (262)757-4041.